7 Simple Substitutes For Hummus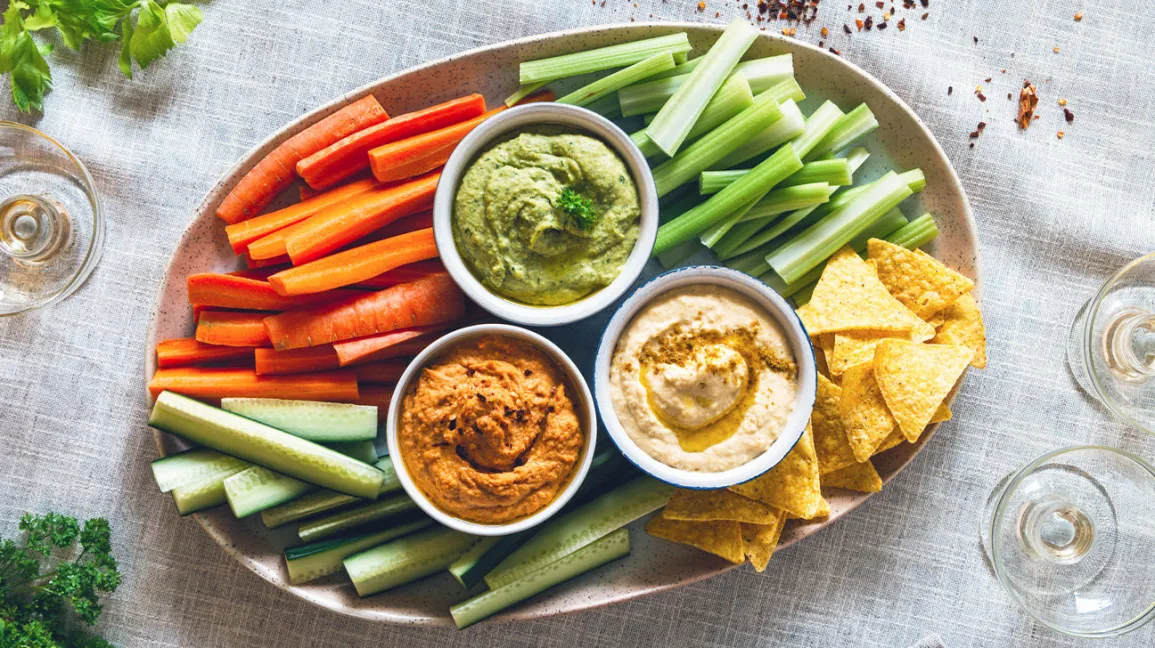 Hummus is a deliciously smooth and creamy dip that has gained popularity all over the world. It is a simple dip made with cooked chickpeas, tahini, lemon juice, salt, and pepper. All the ingredients are thoroughly blended in a food processor or blender. Some people also like to add garlic or cumin for more flavor. 
Hummus is a versatile dish that can be eaten on its own or as a dip with a variety of fresh vegetables or pita chips. One of my favorite ways to enjoy hummus is as a hummus sandwich. Simply spread some hummus inside a pita pocket, and add some slices of tomatoes and cucumbers. To serve hummus, sprinkle some zaatar, and enjoy! Some people find hummus to be too high in calories, or they are not a big fan of the flavor of the chickpeas. If that's the case, no problem! Here are some simple substitutes for hummus that you can try.  
Moutabal is a creamy eggplant dip with the same texture as hummus. Mutable is a vegetarian dip made from roasted eggplant mixed with tahini, lemon juice, garlic, cumin, salt, and pepper. You could mix in some chopped parsley and cilantro for more flavor. This dip is similar to hummus and can be used in the same ways, but it has much fewer calories. 
Greek yogurt hummus is a thick creamy combination of yogurt and hummus that can be used as a dip or spread. Fresh vegetables taste delicious dipped in greek yogurt hummus. Chop some fresh herbs like parsley, mint, and dill and mix them with a hint of salt. Then sprinkle some olive oil on top, and you got yourself a refreshing dip to enjoy 
With just avocado and cannellini beans, you can make the most amazing, light, and nutritious dip. Simply prepare the cannellini beans as you would do for hummus by blending them in the food processor. Then add lemon juice, tahini paste, garlic, cumin, salt, and pepper, and blend until smooth. Peel one avocado, remove the pit, cut it into chunks, add to the cannellini beans and run the food processor until you get a smooth avocado cannellini dip. This simple dip is a perfectly healthy snack as it has plenty of healthy fats and nutrients.
This vibrant green dip is made with nutritious soybeans. You can find edamame shelled in the frozen section at Trader Joe's or even Costco. To make edamame, all you have to do is defrost them in a pot of warm water. Once they are defrosted, add tahini, lemon juice, garlic, salt, and fresh cilantro. Process in the food processor until everything is mixed well. Edamame has plenty of vitamins and minerals, so there is no doubt that this dip is excellent for your health. Enjoy edamame hummus with fresh vegetables and crackers. It is absolutely delicious! 
Beet and sweet potato Hummus
This is a three ingredients dip; however, you can also skip the tahini paste and simply use beets and sweet potato. To make this dip, roast the beets and sweet potatoes in the oven until they are tender and caramelized. Let the roasted vegetables cool to room temperature and add them to the food processor. Add some olive oil and salt and process until smooth. Use this delicious beet sweet potato hummus as spread on sandwiches or as a party dip. You may even want to use it to replace mashed potatoes and whip in some butter and a bit of cream.  
Chocolate tahini hummus may sound surprising, but you can use this dip as a healthier version of Nutella. Take some melted dark chocolate and mix it with tahini. Then add some honey or molasses with a touch of cinnamon. This chocolate tahini makes an absolutely divine spread, and you can use it on toasted sourdough or thin it out and drizzle it on roasted root vegetables. Don't be afraid to add some sweet dips to the table. 
Split red lentil hummus is a tasty dip that comes together in perfect harmony. The split lentils are cooked with either vegetable stock or water and a spoonful of olive oil and cumin. Once you drain the lentils, add them to the blender or the food processor. Process the lentils with tahini paste, lemon juice, garlic coriander, and a couple of slices of toasted pita bread or sourdough. Make sure the ingredients all come together and become a smooth dip. You can add a little warm water if you need it to thin it out. Enjoy this red lentil dip with fresh vegetables or whole grain crackers! 
Bio:
Hi, I'm Rana and I blog at ranasrecipe.com. My passion for food began very early in my life. And after managing a cafe, a granola business and helping other food businesses scale up, I found my true calling in creating wonderful recipes so that everyone can enjoy cooking as much as I do! Don't forget to follow me on my social channels- instagram and pinterest.