Mozzarella Sticks and Waffle Irons: A Match Made in Heaven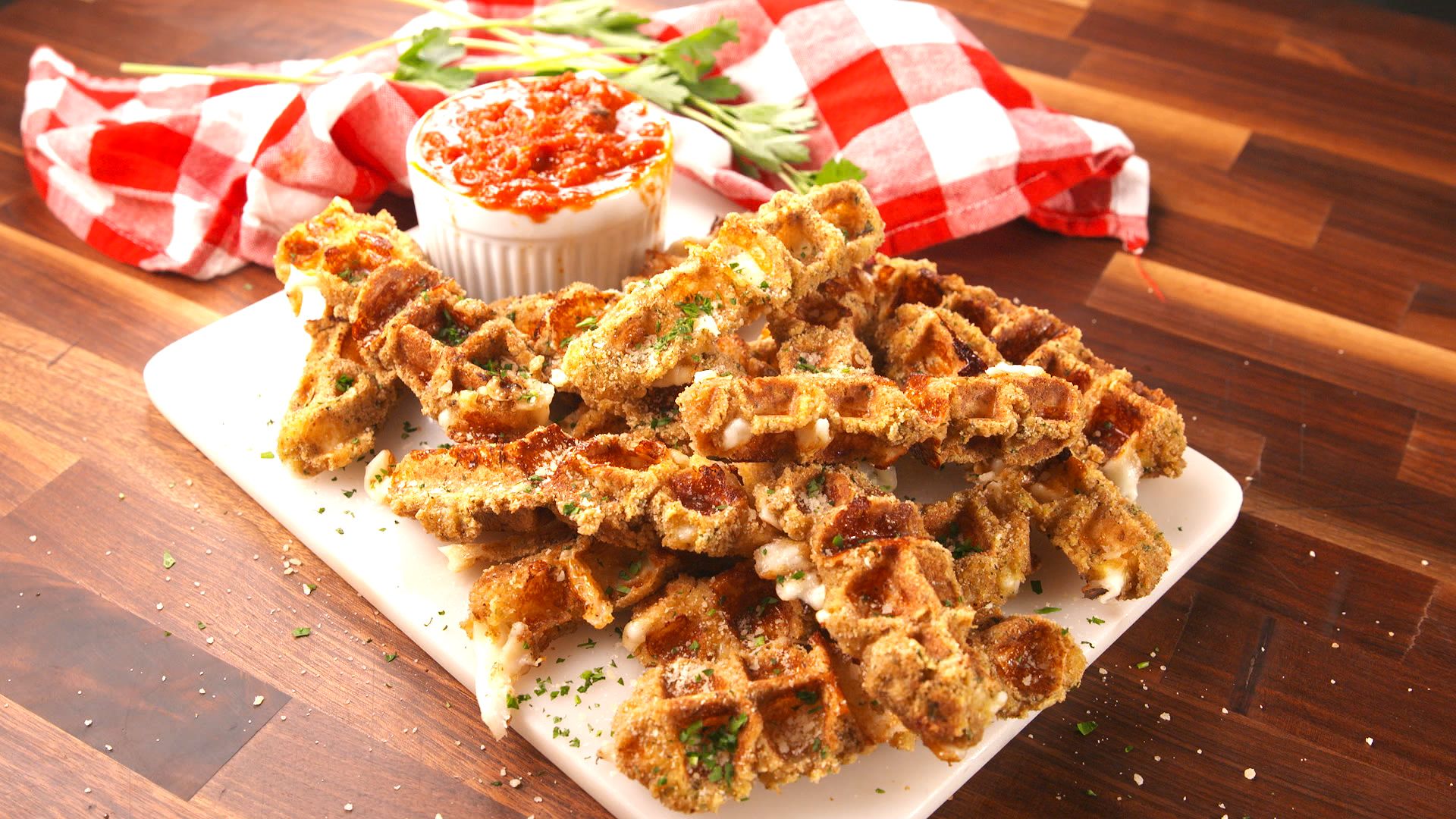 Mozzarella sticks are a perfect food. Crispy breading, melty cheese – they're nothing short of amazing. With something that good, it's hard to imagine anything better. That said, it's possible to take perfect mozzarella sticks up a notch to brilliant with the help of a waffle iron. Want to know how? Here are three ideas for mozzarella sticks and waffle irons:
Mozzarella Stick Waffles with Red Pepper Jelly
Zippy red pepper jelly is the ideal mate for crispy, gooey mozzarella stick waffles. These make a fast and easy after-school snack, but they're also tasty anytime you want a sweet and savory treat. 
Ingredients
Frozen Farm Rich Mozzarella Sticks
Red Pepper Jelly
Directions
Place 3 frozen Mozzarella Sticks on a heated waffle maker.

Cook for 10-12 minutes on medium heat.

Gently remove cooked "waffle." It might fall apart, but it'll still be delicious. 

 Spread with red pepper jelly for a sweet and savory treat.
Mozzarella Bites with Peach Salsa
Sweet and savory peach salsa makes mozzarella bites or sticks sing. The waffle shape catches the salsa and ensures that every bite has a flawless balance of melted mozzarella cheese, crispy breading, and spicy, sweet salsa. Yum. 
Ingredients
Frozen Farm Rich Mozzarella Bites or Mozzarella Sticks
Fresh, frozen, or canned peaches, diced
Prepared salsa or pico de gallo
Fresh cilantro, chopped
Instructions
Cook frozen sticks or bites in a waffle iron for a few minutes.

Stir chopped cilantro and peaches into salsa

Serve cooked mozzarella with peach salsa for dipping. 
Waffle-ized Mozzarella Sticks
Mozzarella sticks cooked in a waffle iron have more crispy edges, a flat shape, and lots of nooks and crannies that are perfect for dipping. This particular recipe is endlessly versatile; once you try these, you'll; imagine dozens of flavor combinations of your own. 
Ingredients
1 lb box frozen Farm Rich Mozzarella Sticks
Mexican Crema or sour cream
Cotija Cheese
Salsa of Choice
Instructions
Allow frozen Mozzarella Sticks to sit at room temperature for 15 minutes.

While mozzarella sticks sit, preheat the iron and spray with cooking spray.

Arrange 6-8 Mozzarella Sticks on iron. Close the lid and press down firmly. Cook for about 4 minutes, but the cooking time will depend on your particular iron. Repeat.

Serve waffles on a large platter with a drizzle of Mexican Crema or sour cream, crumbled cotija cheese, and a variety of salsas for dipping.
So pull out your waffle maker and a box of mozzarella sticks today and give all these recipes a try.