Book Chai Cart For Your Wedding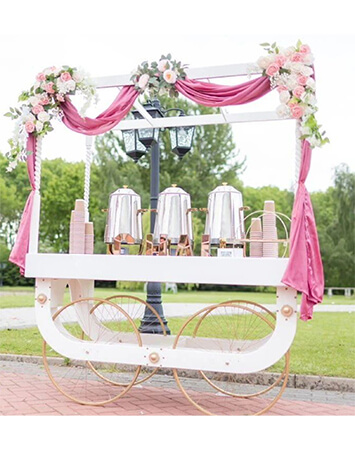 Welcome to the enchanting world of Chai Cart, where we bring the magic of authentic Indian chai to your special day. Our dedicated team is here to serve you and your guests, ensuring a memorable experience filled with warmth and flavour.
At Chai Cart, we understand the importance of creating a unique and unforgettable event. That's why we offer wedding chai cart hire services that add a touch of elegance and charm to your celebrations. Imagine sipping on a steaming cup of masala chai, surrounded by loved ones, as you create beautiful memories together.
Our experienced staff will be there every step of the way, taking care of all your chai needs. From setting up an exquisite tea station to serving freshly brewed chai made with the finest ingredients, our goal is to provide you with an exceptional experience that leaves a lasting impression on your guests.
Whether it's an intimate gathering or a grand affair, our Chai Cart is designed to cater to weddings of all sizes. We offer a range of delicious chai flavours and accompaniments that can be tailored to suit your preferences and theme.
Experience the magic of Chai Cart on your special day and let us take care of all things chai-related while you focus on creating cherished memories. Contact us today for wedding chai cart hire and let us make your celebration truly extraordinary.