7 Benefits of Choosing Halal Food Catering Services in Singapore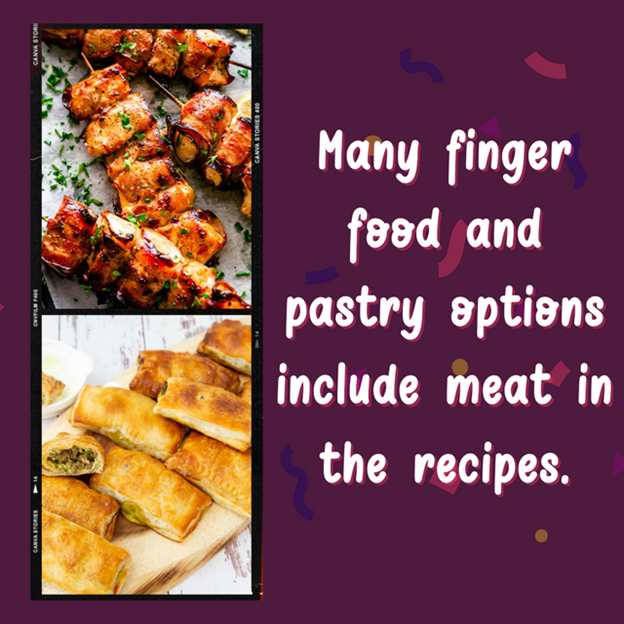 Sizable meetings and events are challenging to organise and manage, especially in a country with a diverse mix of cultures and religions as Singapore. You will need to consider the dietary limitations and preferences of each visitor at your event before ordering party food from catering or delivery services around Singapore. Moreover, many finger food and puff pastry recipes worldwide include the use of various types of meat.
Halal food catering services in Singapore always verify to fulfil the specific set of permitted food preparation and ingredient standards. They ensure to adhere to the dietary guidelines outlined in Muslim texts. Moreover, cooking halal cuisine uses procedures and ingredients that are permissible and safe for consumption by all people, not only Muslims.
7 Benefits of Getting Halal Menu Choices for Your Party
Halal cuisine is a dietary norm outlined in Muslim scriptures that makes food permissible and acceptable. The term halal itself means 'permissible' in Arabic. Food manufacturers, caterers and other food service providers can only be halal-certified by meeting these specific food preparation requirements. The following are the seven best reasons to opt for halal food catering services in Singapore for your next major event.
#1 Exceptional Standards on Hygiene & Food Safety
It is necessary to use specific animals in preparing halal finger food, whether for delivery or catering, in Singapore or abroad. According to Muslim texts, consuming pork, blood, or animals that have died in particular ways is not permissible.
Halal meat is from the appropriate species, and the law requires the slaughtering of an animal in a specific manner. The preparation of halal food also follows a tight set of hygiene regulations. Hence, the likelihood of contamination in halal meals is exceedingly minimal. If you hire a halal catering service provider in Singapore, you can be guaranteed minimal contamination rates and an excellent food safety track record.
#2 Avoid Unhealthy Protein
Most halal food catering providers in Singapore use healthier protein options such as fish, chicken, and beef. These are lean proteins with minimal fat content and a source of beneficial fats and minerals. Pork is high in cholesterol and is often fatty. Your guests will enjoy having a healthier meal alternative at your event. If you are not Muslim, you may choose to avoid pork because of the health benefits associated with the usage of other proteins.
#3 Superior Meat Quality
Meat used in 100% halal food menus of catering services in Singapore must originate from grass-fed animals. Farmers are not allowed to administer antibiotics or other medications to their animals. Furthermore, the law does not permit preservatives in halal beef. Such proteins provide considerably more delectable dishes. Most meats are juicier and have a more stable protein flavour.
#4 Best Meat Choices
After slaughtering the animal, slaughterers must remove all blood from the flesh before people can consume it. The blood contains a lot of contaminants that butchers need to eliminate from the meat before consumption. Uric acid is one of them, and it can be harmful to human health. High levels of Uric acid might cause renal and cardiovascular issues. It is high in poultry, so even if you don't eat red meat, halal food by a reliable catering service in Singapore is preferable.
#5 Superior Ethical Option
Halal slaughter procedures for any cattle aim to cause as little pain and suffering as possible for the animal. Every halal butcher is trained for this specific process to ensure that turning livestock into meat is quick and painless. You can serve your guests a menu of cruelty-free meat while still receiving high-quality food by hiring halal food catering services in Singapore.
#6 Evidence of Unrivalled Quality
Choosing a reputable halal catering service ensures that these specialists adhere to the highest procedures and standards. Obtaining halal certification is challenging for any caterer in the country and abroad. It entails a lengthy method and a tight set of prerequisites that they need to fulfil. Their certification is proof your caterer will have well-established food preparation methodologies. It results in excellent taste and allows you to enjoy various health benefits. They will adhere to best-practice operational standards and processes to deliver the best sharing platter, for catering or delivery, to clients in Singapore.
#7 Diverse Food Choices
Don't be afraid to look at halal choices for the party set catering or delivery for your forthcoming event. Halal catering will provide you with variety, quality, and ethical options that everyone will appreciate. There is still an enormous selection of options, although the halal standards impose certain restrictions. Following halal regulations and practices does have certain drawbacks on party food choices, for catering or delivery, in Singapore. However, a good caterer will offer a world of options for your occasion. Foreign foods, BBQ buffets, vegetarian dinners, Asian fusion, Peranakan buffets, tea reception options, and even children's menus are available in any halal food menu.
If you plan a private gathering for your friends and family, you may wonder what to put on the menu. Hiring a halal food catering service in Singapore might elevate your occasion.
As most people know, various laws have been put in place to guarantee that halal food is safe for Muslims and non-Muslims to consume. Hence, it is the best choice if you intend to arrange halal food catering service for events in Singapore and lack the time or resources to check with each guest. Nonetheless, you will serve the best party set for delivery or catering.
Get Your Party Menu from a Reputable Establishment
Serve the best food selections to your guests at your next party. Choose a restaurant like Délifrance Singapore that sells high-quality pastries and sweets that are also Halal-certified. For almost 30 years, they have provided a taste of Paris through their coffee and delectable French meals. Clifford Centre was the café chain's first Asian presence outside of Europe. It has since grown to include eighteen café-bakery outlets around the island. You may visit one of their stores or get a halal care, dessert and finger food package for delivery anywhere in Singapore. Explore their page to learn more about their products, specials, and discounts.